Kadji (The Care) is situated in Harinagar, Vadodara, Gujarat with headquarters in Gotri with the aim to give the best care of nursing and rehabilitation services to elderly and paralysed individuals making sure their families are tension free of their parental and care related issues.
Kadji The Care was established by Dr.Chavda on 14 July 2011 primarily for home care provider organisation. In 2012, the 1st care home was initiated which have only 9 beds. Afterwards kadji introduced more facilities and kept on adding bed strength.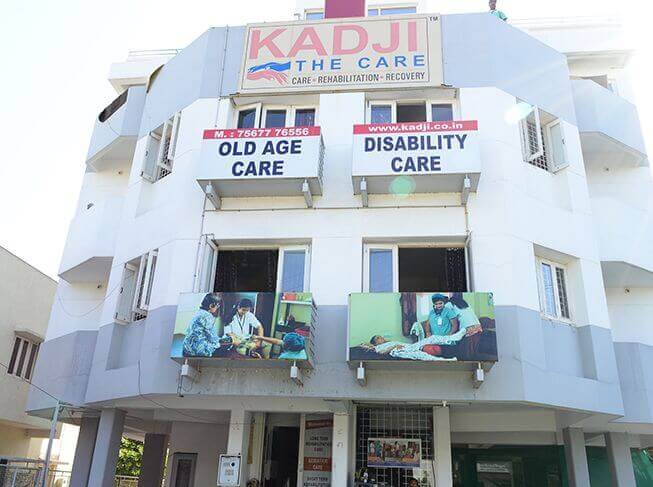 Today Kadji has become a private limited social enterprise and with aim towards reaching maximum cities of India. By 2015, KCRL has added two more feathers in the form of reflex multispeciality physiotherapy clinic for affordable and modern PT.
As per their website, their main vision is
"To create a culture of quality care, provide a rehabilitation service which ensures the maximum recovery of paralysed people, and with these two fundamentals of care and rehabilitation we would want the family members to live their lives worry free of their family member's illness."
Admission process in Kadji is very simple.You just have choose our package depending upon the short term care and long term care.After that you have to do document formality and then have to pay the fees.
Facilities/Treatments: Inpatient Treatment, elderly rehabilitation occupational therapy, elderly rehabilitation physiotherapy, elderly care, elderly care, Residential Rehabilitation, Family counseling, Yoga center, neuro care and rehabilitation, ortho care and rehabilitation, old age care, physiotherapy opd, etc.
Kadji The Care Rehab Center Contact Details
Address:
Kadji House
Opp Nene Clinic,
Rajesh Tower Road,
Harinagar, Gotri
Vadodara, Gujarat, India
Mobile/Phone Number: +91 756 777 6556
Website: http://www.kadji.co.in/
Email: info@kadji.co.in
Do not forget to provide your genuine review about this elderly rehab center. And if you want to receive more such information, do subscribe to our website.
Kadji The Care Elderly Rehab Center Vadodara, Gujarat
Average rating:
0 reviews