Sarvam Neuropsychiatric Center is located opposite Rajiv Gandhi Khel Stadium in Paploha village, district Panchkula, Haryana. Located in the foothills of the majestic Shivalik Mountains, SARVAM Kalka is located just outside the beautiful city of Chandigarh. SARVAM offers evidence-based and recovery-oriented treatment programmes.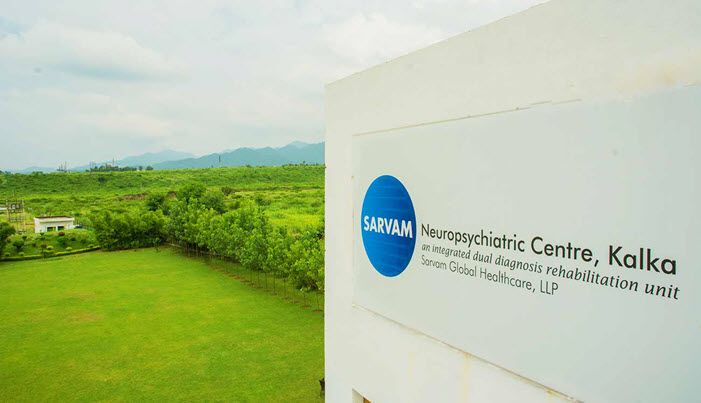 Sarvam is the 1st dedicated, integrated dual diagnostic center in the country and offers evidence-based outpatient and residential treatment for individuals struggling with substance addiction/process addiction and psychiatric disorders.
"Sarvam Neuropsychiatric Center" is licensed by the Directorate General Health Services of Haryana as a psychiatric facility and it offers for the research driven customized rehabilitation programs to its client.
SARVAM offers an integrated model which proved to be most effective in the treatment of drug addiction, alcoholism, process addictions, severe mental illnesses and dual diagnosis. It incorporates various services like medications, cognitive therapy, Yoga, meditation, 12 Step principles and family support. This aids the overall recovery of the person from a medical, psychological, social, emotional and spiritual perspective.
[su_youtube url="https://youtu.be/nwzHdf5AWqo"]
Facilities/Treatments: Inpatient Treatment, Psychotherapy, 12 Step, AA & NA Meetings, Alcoholism Treatment, Detoxification, Drug Addiction Treatment, Family Services, Gambling Addiction, Individual counseling, Relapse Prevention, Residential Rehabilitation, Family counseling, Yoga center, etc.
Sarvam Neuropsychiatric Center Contact Details
Address:
Sarvam Neuropsychiatric Centre
Opposite Rajiv Gandhi Khel Stadium,
Village Paploha ,Tehsil Kalka,
District Panchkula, Haryana -133302
Mobile/Phone Number: +91-8130755455
Website: http://www.sarvamhealth.com
Email: hello@sarvamhealth.com
Sarvam Neuropsychiatric Center Haryana, India
Average rating:
0 reviews