Serene Life Hospital is located on the Kanniamman Nagar Main Road, next to SCHRAM Academy School Vanagaram in Chennai. Serene Life Hospital gives magnificent care in a safe and respectful environment to advance trust and personal satisfaction in people with emotional instability. Their vision is to improve addicts recovery through dedicated service and devotion, family and community networking, collaborative research efforts, and maximizing evidence based treatment practices.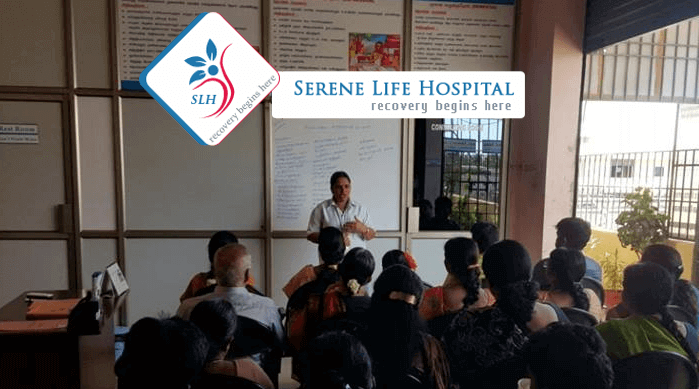 Serene Life Hospital is one of the best rehabilitation centers of Chennai, Tamil Nadu and provides best service and facilities along with treatment.
If you have identified signs of substance abuse, do go to them as they have professional team which includes experienced Psychiatrist, Addiction psychiatrist, Schizophrenia, Depression, Bipolar disorder and Child Psychiatrist, Psychologist and other consultant.
Not only they provide treatments for alcohol and drug abuse, but also to people suffering from Anxiety/ Fear, Depression, Anger, Negative Thoughts, Suicidal Thoughts or Attempts, Relationship Issues, Marital Problems (Pre and Post), Fear of Independence, Stress and Sexual Problems.
Serene Life Hospital has a very positive feedback from patients and regularly works to improve quality of care, so if you are near to Chennai, do give them a call.
Facilities/Treatments: Drug & Alcohol rehabilitation and treatment, 12 Step, Detoxification, Residential Rehabilitation, Substance Abuse Counseling, Yoga and Meditation, Motivation enhancement therapy, Youth Substance Abuse, Substance abuse Detoxification, Cognitive Behavioral Therapy, Psycho Therapy (Counseling), On-Call doctors, Patient Escort services, RO Water Purifier Plant, etc.
Serene Life Hospital Contact Details
Address:
86/2A, 14/4C, 1st Floor, Kanniamman Nagar Main Road,
Next to SCHRAM Academy School, Vanagaram,
Chennai, Tamil Nadu 600095, India
Mobile/Phone Number: +91-9940004145, 04464554145 /46
Website: http://www.serenelifehospital.org/
Email: admin@serenelifehospital.org