Hope Trust Alcohol and Drug De-addiction Center is located in Jubilee Hills, Phase 3, Hyderabad, Telangana. It is a well renowned rehabilitation center in Hyderabad which also provide rehabilitation services to international patients and is connected with Arel Hope – India's premier rehab center.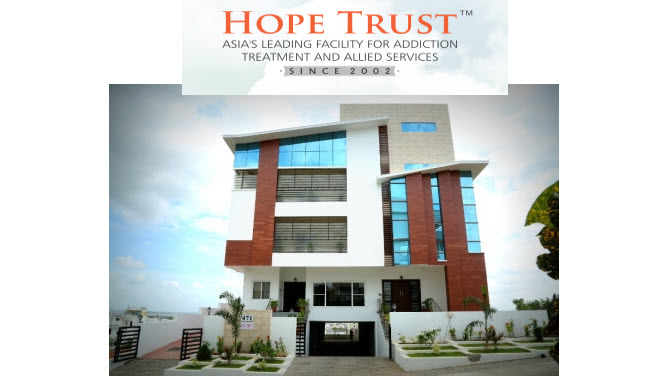 Hope Trust is one of the trusted rehabilitation center and has also collaborated with leading rehab centers in Canada and UK. Treatment done at this center are based on the recommendation of WHO 12-step program which is one of the widely used recovery program for substance abuse addicts.
With their Holistic approach, they address the patient well on their physical, mental, social state and help them in recovering fast. Hope trust recovery program also includes meditation, wellness and regular 'Art of Living' courses.
They provide complete detoxification service from detox to relapse-prevention. With the high recovery rate and well trained staff, sometimes they are even compared to best rehabilitation centers in the world.
It is said to be an ideal place for those who have tried their treatment abroad but are unable to maintain long-term sobriety. International Patients are also treated in Hope trust and before leaving the center, each patient goes through a personalized and comprehensive relapse prevention program.
Hope trust is easily reachable by all means of transportation. From the railway station, it is just 10 km away and from international airport it is 25 km and pre-paid taxis are also available there.
Facilities/Treatments: Detox, Alcohol addiction treatment, Drug abuse treatment, Daily Yoga and meditation, Daily AA/ NA meetings, Individual counselling, Psychological intervention, Relapse Prevention, Communication exercises, Marital counselling, Spacious air-conditioned rooms, Attached bathrooms with hot water, Table Tennis, TV Lounges, Indoor Games, Gym, etc.
Hope Trust Alcohol and Drug De-addiction Center Contact Details
Address:
Plot No. 471, Road No. 87,
Jubilee Hills, Phase 3,
Hyderabad – 500 033,
Telangana, India.
Mobile/Phone Number:
Toll Free (India): 1800 3000 6121
Tel: +91 40 23396339/+91 40 23305386
Mobile: +91 78930 03070
Overseas: +91 98490 69609
Fax: +91 40 2330 2230
Website: http://www.hopetrustindia.com/
Email: info@hopetrustindia.com
Hope Trust Alcohol and Drug De-addiction Center Hyderabad
Average rating:
0 reviews