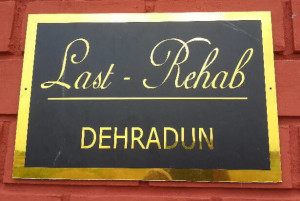 Last Rehab (Last Rehabilitation Society) is situated in Ganeshpur, Dehradun and is only 10.5 KM from ISBT Dehradun. It is located in a very quite and calm area free from any sorts of pollution and you can figure out this by seeing there center picture below. Mr. Vijay Dimri is the director of this rehabilitation center.
According to them, their rehab center is very unique and designed to look like an actual rehab center rather than the hospital or some kind of hostel, house or building.
They are helping people who have become addicted of Alcohol and Drugs and provide support and treatment for these addictions and tell them how to overcome this curse.
And once you enroll in their rehab treatment program, your addiction will go forever and you will not have to visit any other rehab. That is why its name is "Last Rehab".
The treatment process is same for everyone and extra facility is only provided to older people. Do give this Nasha Mukti Kendra a shot and do give your genuine review below if you have ever used their services.
Currently they are providing two programs for alcohol & drug treatment. First one is a 18 day program which is a short term course, especially for people who don't have much time and has less holiday from their work.
Second treatment program is a 4 month program and this period patient will have to live in Last Rehab and will undergo recovery process.
Facilities/Treatments: Alcohol addiction treatment, Detoxification, Drug De-addiction Treatment, Substance Abuse Counselling, Yoga and Meditation, 12 step program, Residential rehabilitation center, etc.

Last Rehab Dehradun Uttarakhand Contact Details
Address:
Last Rehabilitation Society (Regd),
Ganeshpur, Dehradun
Uttrakhand, India
Mobile/Phone Number: +91 7669176691, 9997109800
Website: http://www.lastrehab.org/
Email: contact@lastrehab.org
Last Rehab Dehradun Uttarakhand
Average rating:
3 reviews
Dec 14, 2017
They are genuine People I ever Seen.
Dear Last Rehab Your Work is very very good. All Staff Member,s Corporation We Cant forget any how.

My and My Fathers Blessings are always with u r work.



Naveen

S/O K .S Panuly
Sep 24, 2017
Whenever We will have something for u we will feel proud. Thanks Vijay,Ashish,Lalit and all u r staff members
Navin is regullerly attanding the meeting u told..

thanks.
May 7, 2016
Thanks
Dear Vijay, We are really thankful. God Bless you.