SOUKYA – Dr Mathai's International Holistic Health Centre is located on Soukya Road, Samethanahalli, Bangalore and is one of the best Ayurveda luxury rehab center in the city. It aims to provide its service to help people and promote Holistic and Integrated medicine.
The International Holistic Health Association (IHHA) was begun in 1989 as it perceived the rising mindfulness, need and routine of Holistic and Integrated Medicine. Drawing from different frameworks of recuperating from over the globe, including ancient, conventional and current practices, Holistic Medicine has broadened the extent of treatment, making it successful, sheltered and reasonable.
SOUKYA is gotten from the Sanskrit word "Soukhyam" which implies prosperity and a symphonious condition of the brain, body and soul. Likewise, in South India, individuals welcome each other with "Soukhyama" (Tamil) or "Soukhyamano" (Malayalam) which signifies 'Would you say you are well?'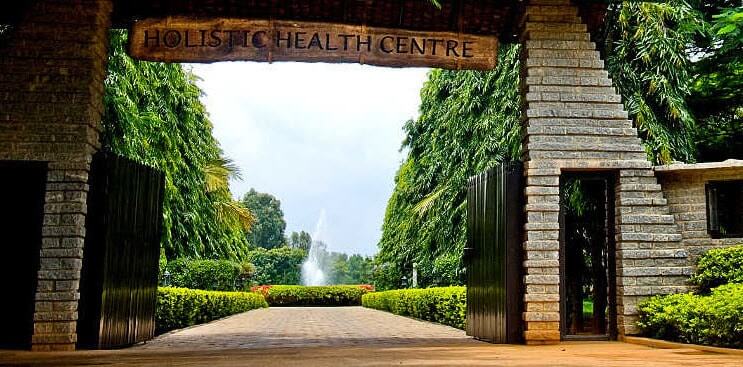 Soukya is one of the World's first holistic health center and is managed by world well known oholistic health practitioner. It is well known for offering genuine Ayurveda to society. It is place for Life management, Therapeutically observation by qualified doctors, etc.
This luxury rehabilitation center is spread across 30 acre of organic land and is a Smoking and liquor free zone.
They have variety of packages for every need depending upon what service you require like Ayurvedic Wellness Programmes, Naturopathic Wellness Programmes, Integrated Wellness Programmes, Medical Programmes, etc.
Facilities/Treatments: Drug Addiction Treatment, Smoking cessation, Inpatient Treatment, Psychotherapy, Alcoholism Treatment, Detoxification, Diabetes, Therapeutic Skin Care, Hypertension treatment, Individual counseling, Asthma, Relapse Prevention, Residential Rehabilitation, Family counseling, Yoga center, Ayurvedic treatment, Anti-ageing treatment, etc.
Soukya Holistic Health Center Contact Details
Address:
Soukya Road, Samethanahalli,
Whitefield, Bangalore – 560 067. India
Mobile/Phone Number:
Tel : +91 80 2801 7000 – 08
Mob : +91 98453 74400
Fax : +91.80.28017009
Website: www.soukya.com
Email: info@soukya.com
SOUKYA - Dr Mathai's International Holistic Health Centre Bangalore
Average rating:
0 reviews