Jeevan Uday De-Addiction Center is situated in Sahibabad, Ghaziabad. It is an NGO body registered in September 2nd 2002. Jeevan Uday was formed by the dedicated members Dr. Vikram Singh Negi & Dr. Priyanka Sharma who were into the field of rehab and de-addiction from long years and have the vast experience in treating drug addicts.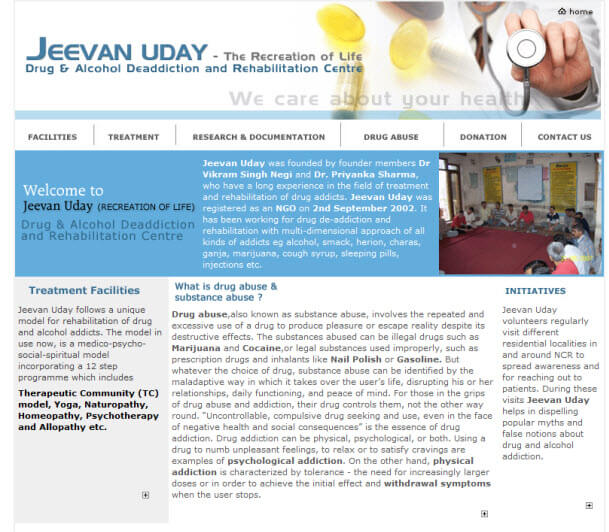 These members Dr. Vikaram and Dr. Kiran together researched a project for Smack Addicts, whose treatment was based on therapies like homeopathy, Naturopathy or Chiropractic with no use of medicines to cure Smack Addicts. homeopathy, Naturopathy or Chiropractic.
Jeevan Uday uses a different and unique model to treat their people who are addicted to drugs through a 12 Step program known as medico-psycho-social-spiritual model. Jeevan Uday has a strongly belief that Addiction is Chronic and Progressive disease which can be treated easily with no use of medicines as it is based on personality traits (physical, psychological, social and spiritual) of human being.
Yoga and Naturopathy Treatment at Jeevan Uday: The aim of this treatment is to improve the health of addictors through holistic model which aims at Therapeutic and Psychiatric services against de-addiction treatments and it is totally drug-less having no adverse effects on patients.
Homeopathic and Alopathic Treatment at Jeevan Uday mainly aims at physical, mental and spiritual illness. The treatment is totally non-narcotic and non-addictive for the dependents to drug and alcohols.
Jeevan Uday till now had treated over 1500 + patients which were chronic dependents to the addicts of drugs and alcohols.
Facilities/Treatments: Detoxification, Drug De-addiction Treatment, Residential Rehabilitation, Substance Abuse Counseling, Yoga and Meditation, Correction & Behaviour Modification, Dual Diagnosis Treatment, Group Counseling, Indoor/Outdoor games, Celebration of religious festivals, etc.
Jeevan Uday Contact Details
Address:
9/17 Sector-3 Rajinder Nagar
Sahibabad, Ghaziabad (UP)
Mobile/Phone Number: 9810859854, 9350293850
Website: http://www.jivanuday.com
Email: jivanuday@yahoo.com
Rehab Centers
Average rating:
0 reviews