This Art of Living de-addiction center facility is located in Udayapura, Bangalore, Karnataka and aims to make an addiction free world by breaking the chains of drugs, alcohol, tobacco and other substances. The Art of living has been campaigning against drug addiction over a decade all through India and also working towards creating a drug free India.
A residential campus for over 100 inmates has been set up and is running successfully for about a decade in Kolkata. Art of Living technique is primarily based on holistic healing techniques of Yoga and Ayurveda.
Now, a brand new traditional de-addiction center has been set up close to the Art of Living International Campus at Bengaluru. Alcohol, drugs, smoking and any other addiction is treated there.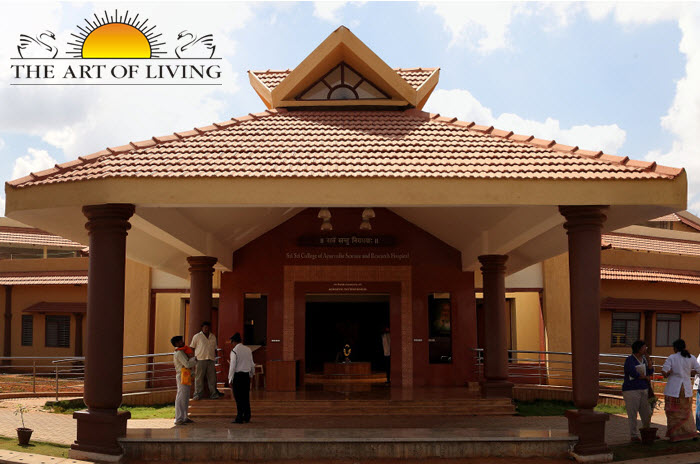 Art of Living de-addiction center therapy aims to provide better management of withdrawal symptoms, total removal of substance abuse for life, developing effective coping skills, strengthening inter-personal relationships, Enhancing work life balance, Sustaining recovery through follow-up services and managing relapse through regular spiritual practices.
At this rehab center many treatment procedures are used, such as Detoxification through Ayurveda, Psychological Therapy, Yoga Therapy, Spiritual Therapy, Diet and Nutrition, etc.
The have residential as well as non-residential programs. Alcohol De-Addiction residential package is a 30 day program in which complete de-addiction is achieved by using holistic healing techniques. The package costs Rs. 45,000 which is payable in advance.
If you have taken any rehabilitation package at this center, please do not forget to review it below.
Facilities/Treatments: Inpatient Treatment, Psychological Therapy, 12 Step, AA & NA Meetings, Alcoholism Treatment, Detoxification, Drug Addiction Treatment, Family Services, Gambling Addiction, Individual counseling, Relapse Prevention, Residential Rehabilitation, Family counseling, Spiritual Therapy, Yoga center, etc.
Art of Living De-Addiction Center Contact Details
Address:
Art Of Living Center for Prevention of Diseases and Promotion of Health.
The Art of Living International Ashram Campus
# 21st KM, Kanakapura Road, Udayapura,
Bangalore 560082, India
Mobile/Phone Number: 09480494099, 9739094453, 7795850885
New Mobile no.: 9739644457
Website: http://www.artoflivingdeaddictioncenter.org
New Website: www.artoflivingdeaddictioncenter.com
Email: aoldeaddiction@ssrvm.org
Art of Living De-Addiction Center Bangalore Karnataka
Average rating:
0 reviews