Kripa Revival Center is located in Dasarahalli – Yelahanka Main Road, Bangalore, Karnataka and is a modernized drug/alcohol rehab center established in the year 2008 by Dr. Benedict Reddy (Founder & CEO of this rehabilitation center) with the sole aim of providing best rehabilitation services to the patient suffering from addiction disease.
This rehab center is spread over more than 6,000 sq. ft. situated in the Garden City of Bangalore. They use popular 12 Steps program of Alcoholics Anonymous (AA) and Narcotics Anonymous (NA) for treatment.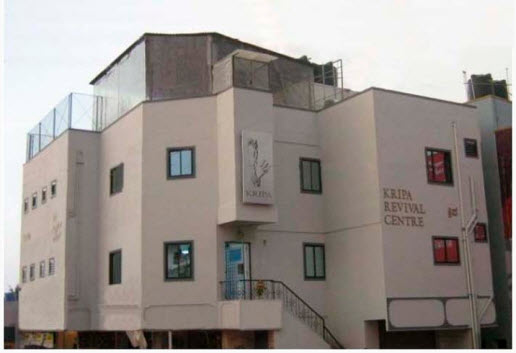 And currently, Kripa Revival rehab center don't have any legitimate issues in court and have treated more than 1000 patients from the time they began this association and have roughly around 30% recuperation rate when contrasted with 2% recuperation rate as per world measurements.
They have also treat international patients from countries like Australia, Africa, Europe, Malaysia, Maldives, UAE, U.K., U.S.A.
And also within India they have good reputation and from many others states like Andhra Pradesh, Assam, Bihar, Chandigarh, Chhattisgarh, Delhi, Goa, Gujarat, Haryana, Himachal Pradesh, Indore, Jammu and Kashmir, Jharkhand, Karnataka, Kerala, Madhya Pradesh, Maharashtra, Manipur, Mizoram, Nagaland, Orissa, Pondicherry, Punjab, Rajasthan, Sikkim, Tamil Nadu, Tripura, Uttar Pradesh, West Bengal, people come for becoming sober and get treated.
Facilities/Treatments: 12 Steps Program of Alcoholics Anonymous (AA) and Narcotics Anonymous (NA), Detoxification, Psychiatric evaluation, Morning Yoga & Meditation / Exercise, Inpatient Treatment, Psychotherapy, Alcoholism Treatment, Drug Addiction Treatment, Family Services, Gambling Addiction, Individual counseling, Relapse Prevention, Residential Rehabilitation, Family counseling, Yoga center, In-house multi-gym, Satellite TV, etc.
Kripa Revival Center Contact Details
Address:
Kripa Revival Center
De-Addiction & Rehabilitation Center for Men
No. 1/1 Narayanswamy Building,
Dasarahalli – Yelahanka Main Road,
H.A. Farm Post, Bangalore: 560 024
Mobile/Phone Number: +91 80 6452 6462, +91-98453-10070, +91-97407-84704, +91-99008-22716
Website: www.kriparevivalcentre.org
Email: info@kriparevivalcentre.org
Kripa Revival Centre Bangalore Karnataka
Average rating:
1 reviews
May 7, 2016
Homely ,hygienic,good food
A nice place for rehab. I am an ex-patient and had a very good experience while there. Staff are good, food is excellent, environment is healthy,hygienic.

I highly recommend this place to anyone looking for rehab.