Higher Power Foundation is located in Esther Enclave, Horamavu, Bangalore. It is one of the high rates rehabilitation center in Bangalore city and provides a comfortable residential facility for the treatment of alcoholism and drug addiction. They aid people in changing their lives and live a sober life by giving quality treatment in a secure, calm and healthy environment. Contact person is Mr. Louis Vaz. Contact him for any query related to admission.
Higher Power Foundation provides an understandable approach to the recovery method that addresses the different variety of patients. Their main aim is to help people regain their lives from the severe illness of addiction.
This rehabilitation center in Bangalore is founded by 2 people who themselves have gone through substance abuse trauma. DR Gambetta da Costa who used to be drug addict himself for 22 years, co-founded this institute along with Paul Lobo. It is a very commendable thing that both of them recovered and founded this rehab center.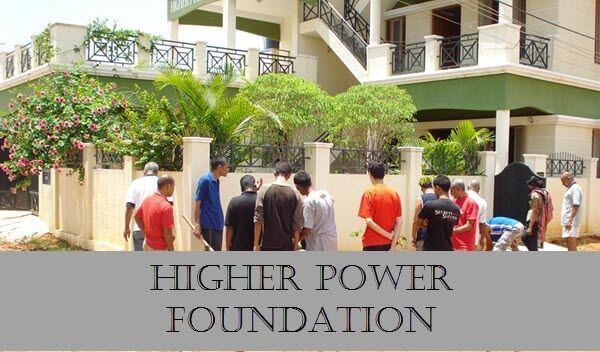 Higher Power Foundation follow holistic approach for the treatment of alcoholism and drug abuse. They use 12 step approach that has already treated thousand of substance abusers all over the world, The 12 step philosophy which is approved by the WHO has been proved to have the highest rate of recovery success all over the world.
Currently, they are having 10 bedrooms with attach washrooms along with 24×7 support staff. The celebrate all the occasions and also have outdoor and indoor sports facility. If you have been to this center, do let us know your review about it.
Facilities/Treatments: Inpatient Treatment, Psychotherapy, 12 Step, AA & NA Meetings, Alcoholism Treatment, Detoxification, Drug Addiction Treatment, Family Services, Individual counselling, Relapse Prevention, Residential Rehabilitation, fun activity, Family counselling, Yoga center, etc.
Higher Power Foundation Contact Details
Address:
# 128, 10th Cross, Esther Enclave
Horamavu, Bangalore – 560 043
Mobile/Phone Number: +91-80-65352525, +91-8197290482
Website: www.higherpowerfoundation.org
Email: info@higherpowerfoundation.org
Higher Power Foundation Bangalore Karnataka
Average rating:
0 reviews